Reporting to the Head of Human Resources, the Diversity & Inclusion Programme is composed of a Diversity & Inclusion Programme Leader (Staff Member) and a Diversity & Inclusion Adviser (Senior Fellow).
---
Louise Carvalho
Diversity & Inclusion Programme Leader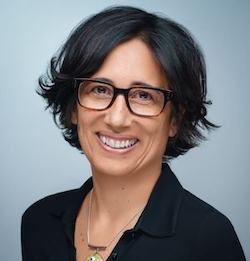 Louise was born in Liverpool, England and grew up on Vancouver Island, Canada. She is of Anglo-Irish and Goan descent, has dual nationality, lived in six countries, and feels at home in a multi-national environment. 
A lawyer by profession, Louise joined CERN in 2014 as a Legal Adviser and was appointed Diversity & Inclusion Programme Leader in 2018.
Louise advocates curiosity and compassion in everything we do.
"Each of us possess a unique set of characteristics and traits, both visible and invisible. Some persons or communities require additional support, greater visibility, or workplace adjustments. While every one of us benefits from inclusive processes, policies, and infrastructure.
"When we create a work environment in which we can bring our full selves to work, that is when we experience our full potential."
Melania Coletta
Diversity & Inclusion Adviser
Formerly an accountant, then HR professional, Melania spent several years prior to CERN at the European Central Bank in Frankfurt. She also worked in the private sector working on projects to access EU funds for women, vulnerable populations, and other needs within specific industries.
Coming into the Diversity and Inclusion portfolio at the European Central Bank turned a job assignment into a passion. Inspired by the possibilities and motivated by positive change, she has chosen to remain within the D&I environment ever since.
Melania's favourite motto is "Diversity is a fact, inclusion is an act". Since she joined CERN in April 2022, her philosophy is to drive and implement as many acts of inclusion as possible within in the workplace.